CA DMV Traffic Violators School
Traffic Violators School License Number: E1893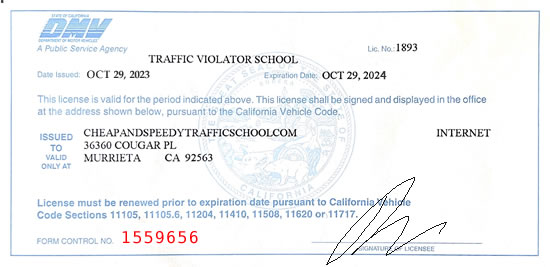 Official documentation of CheapAndSpeedyTrafficSchool.com approval and licensing by the California Department of Motor Vehicles (DMV) to administer traffic violators school programs in the state of California. This serves as notification that by the state of California DMV, CheapAndSpeedyTrafficSchool.com has met the requirements established by the California DMV and have been authorized by the court to carry out these traffic violator school services.
We recognize the significance of our role as an approved and licensed traffic school provider and remain fully committed to upholding the highest standards set by the California DMV and the court system. Through our rigorous adherence to relevant laws and regulations, we strive to ensure the successful administration of traffic school courses with the utmost professionalism and integrity.
With an unwavering focus on safety and education, CheapAndSpeedyTrafficSchool.com has assembled a team of highly qualified instructors and staff members who have undergone extensive training to equip themselves with the knowledge and expertise necessary to deliver exceptional traffic violator school programs. We employ cutting-edge instructional materials and employ interactive teaching methodologies to facilitate an engaging learning experience for our students.
We extend our deepest appreciation to the California DMV and the court system for bestowing upon us this esteemed license. This acknowledgment serves as a testament to our unwavering commitment to excellence and our dedication to fostering safe driving practices throughout the state.